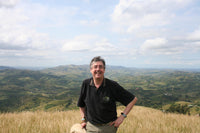 Welcome to Ian Knight's Anglo-Zulu War Gallery
Welcome to the Gallery website for Anglo-Zulu War and Zulu cultural items from Ian Knight, the internationally-renowned author and expert on the Anglo-Zulu War. The object of this site is to provide collectors and enthusiasts with not only copies of Ian's books but also a range of artifacts relating to Anglo-Zulu history. These range from medals to Zulu traditional weapons and memorabilia from films and TV dramas featuring Zulu history. All items have been personally verified by Ian, and any relevant provenance checked.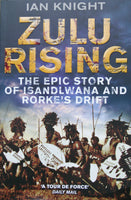 Order A Personalised & Autographed Copy of Zulu Rising by Ian Knight
Check Out Other Titles By Ian Knight

About Zulu Rising by Ian Knight: The battle of Isandlwana was the single most destructive incident in the 150-year history of the British colonization of South Africa. In one bloody day more than 800 British troops, 500 of their allies, and at least 2,000 Zulus were killed in a staggering defeat for the British empire. The consequences of the battle echoed brutally across the following decades as Britain took ruthless revenge on the Zulu people. In Zulu Rising, Ian Knight shows that the brutality of the battle was the result of an inevitable clash between two aggressive warrior traditions. For the first time he gives full weight to the Zulu experience and explores the reality of the fighting through the eyes of men who took part on both sides, looking into the human heart of this savage conflict. Based on new research, including previously unpublished material, Zulu oral history, and new archaeological evidence from the battlefield, this is the definitive account of a battle that has shaped the political fortunes of the Zulu people to this day.
Order Zulu Rising Now