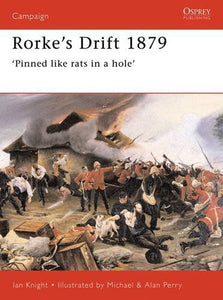 Rorke's Drift 1879 by Ian Knight - Personalised & Autographed (paperback)
Regular price £15.00 Sale
Purchasing this book comes with the option of having it personalised and autographed by the author, Ian Knight. After checking-out and paying, you will receive an email asking how you would like the inscription personalised by Ian. Please allow 2 weeks processing. 
About Rorke's Drift 1879 by Ian Knight: Rorke's Drift sums up some of the best traditions of the British self-image: steadfastness against the odds, victory in adversity and the thin red line. The British stand deserves to go down in history as one of the most heroic actions of all time. The story of a mere 150 British and Imperial soldiers defending an isolated outpost against over 3,000 Zulu warriors summed up the experience of the colonial adventure for the Victorians and remains part of our heritage even today. Ian Knight recounts the course of this famous conflict in which no less than 11 Victoria crosses were won.

Nice, used condition.