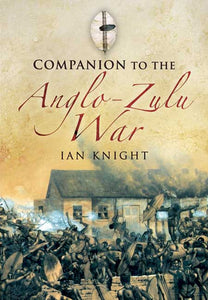 Companion to the Anglo-Zulu War by Ian Knight - Personalised & Autographed (hardback)
Regular price $33.00 Sale
Purchasing this book comes with the option of having it personalised and autogaphed by the author, Ian Knight. After checking-out and paying, you will receive an email asking how you would like the inscription personalised by Ian. Please allow 2 weeks processing. 
About
 

Companion to the Anglo-Zulu War

 

by Ian Knight: The Anglo-Zulu War was a defining episode in British imperial history, and it is still a subject of intense interest. The Zulu victory at Isandlwana, the heroic British defence of Rorke's Drift and the eventual British triumph are among the most closely researched events of the colonial era. In this historical companion, Ian Knight, one of the foremost authorities on the war and the Zulu kingdom, provides an essential reference guide to a short, bloody campaign that had an enduring impact on the history of Britain and southern Africa. He gives succinct summaries of the issues, events, armies and individuals involved. His work is an invaluable resource for anyone who is interested in the history of the period, in the operations of the British army in southern Africa, and in the Zulu kingdom.