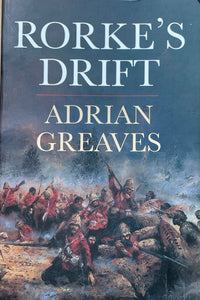 Rorke's Drift By Adrian Greaves
Regular price £10.00 Sale
Description: On 22nd January 1879 a force of 20,000 Zulus overwhelmed and destroyed the British invading force at Isandlwana, killing and ritually disemboweling over 1200 troops. That afternoon, the same Zulu force turned their attention on a small outpost at Rorke's Drift.

The battle that ensued, one of the British Army's great epics, has since entered into legend. Throughout the night 85 men held off six full-scale Zulu attacks at the cost of only 27 casualties, forcing the Zulu army to withdraw. Eleven Victoria Crosses were awarded for bravery shown on that night, the largest number for any one engagement in history.

But as Adrian Greaves's new research shows there are several things about the myth of Rorke's Drift that don't add up. While it was the scene of undoubted bravery, it was also the scene of some astonishing cases of cowardice, and there is increasing evidence to suggest that the legend of Rorke's Drift was created to divert attention from the appalling British mistakes which caused the earlier defeat at Isandlwana.