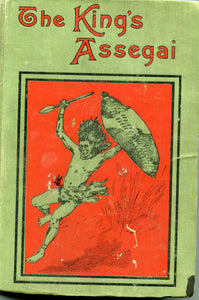 THE KING'S ASSEGAI, by Bertram Mitford
Bertram Mitford is best remembered for his travelogue 'Through the Zulu Country' but he was also a prolific author of adventure fiction, much of it drawing on his experiences in southern Africa. His style has much in common with Rider Haggard, but without Haggard's more fantastical elements; this one tells the story of a young Zulu who falls foul of King Shaka and flees the country with Mzilikazi Khumalo, who founded the Matabele (Ndebele) kingdom in the interior. A good read with plenty of local atmosphere.
Hardback, 1902 edition (no illustrations), old stain to bottom corner of pages (which doesn't impinge on text) otherwise good condition.