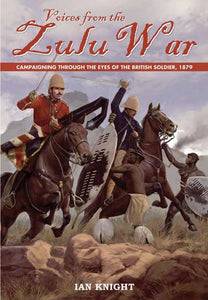 Voices from the Zulu War by Ian Knight - Personalised & Autographed (paperback)
Regular price £21.99 Sale
Purchasing this book comes with the option of having it personalised and autogaphed by the author, Ian Knight. After checking-out and paying, you will receive an email asking how you would like the inscription personalised by Ian. Please allow 2 weeks processing. 
About Voices from the Zulu War by Ian Knight: The forces of the independent Zulu kingdom inflicted a crushing defeat on British imperial forces at Isandlwana in January 1879. The Zulu army was not, however, a professional force, unlike its British counterpart, but was the mobilised manpower of the Zulu state. In this ground-breaking study, Ian Knight details just how the Zulu army functioned and ties its role firmly to the broader context of Zulu society and culture.

After surveying the Zulu army from its creation during the wars of Shaka in the early nineteenth century, and the subsequent development of Zulu fighting methods, Ian Knight focuses in detail on the structure and condition of the Zulu army on the eve of the war in 1879. This indispensable book describes such key topics as enlistment, organisation, training and equipment. He also considers Zulu war aims and strategy, their view of artillery and cavalry, and how they were perceived by their colonial neighbours. Most of all, he reveals how the Zulu army functioned in wartime, from preparatory rituals to battlefield tactics, and the shock of battle itself.