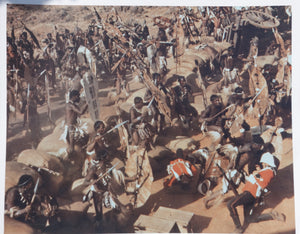 ZULU Movie Still - 1970s re-release British FOH set from Zulu
Modern 10x8 colour photo from a still in the 1970s re-release British FOH set from Zulu.
Background on ZULU Film Photo Stills
Original film items are now highly collectible. Many of them relate to how the film was promoted at the time of its release; there's considerable interest in original posters from around the world, and still images - 'stills' - are highly sought-after. How the film was promoted in the cinema varied from country to country; in the UK it was usual to produce sets of eight 10x8 inch colour stills which were displayed in frames outside the cinema, and which are generally referred to as 'Front of House' sets. In the case of 'Zulu' two different sets were produced, one on the original release in 1964, and another for the re-release in the 1970s. Other countries followed their own styles - in America and much of Europe these display sets were often larger and perhaps printed with enhanced colours to make them more eye-catching, and they are generally known as 'lobby cards'. 10 x 8 black-and-white stills were produced in large numbers, not only for display but also to distributed to the press to promote the film. Often, although obviously drawn from the same photographers' negatives, different scenes were printed and distributed in different countries so that stills hailing from America, France, Germany or South America might show different scenes from those in the UK. All are sought after now - although the value of a particular still depends on the scarcity of the image, and whether it is original to the time of distribution, or a more recent reproduction.